Designing Your Life Course
January 9, 16, 23 and 30, 2023 from  7 – 9 pm EST
Taught by Sue and Steve Sobczak
How to Build a Well-Lived, Joyful Life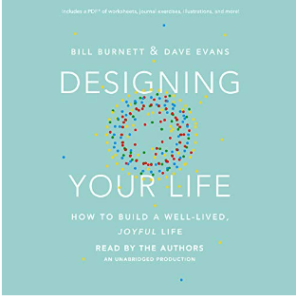 An interactive class that shows you how to build – design – a life you can thrive 
in at any age or stage.
We will show how design thinking can help us create lives that are both meaningful and fulfilling, regardless of whom or where we are, what we do or have done for a living, or how young or old we are. The same design thinking responsible for amazing technology, products, and spaces can be used to design and build your career and your life, a life of fulfillment and joy, constantly creative and productive, one that always holds the possibility of surprise.
Our course is based on the book, Designing Your Life, by Bill Burnet and Dave Evans.
Who can attend?  
We welcome ages 16 and up. You can be a high school student, recent graduate from  high school or college, early career, mid-career, later in life seeking the next chapter.
What will I get out of the course? 
An introduction to design thinking.
A new approach to work-life balance.
Three different plans for the next 5 years.
Actionable ways to get started fast.
Secrets to cracking the hidden job market.
Neuroscientific insights on how to make good decisions that work for you.
You will learn how to design a life that works for you.
What if I need more coaching after the course ends?  
We offer one-on-one coaching to meet your needs.
How long is it? 
The course is four 2-hour sessions.
What are the course dates/times?  
Jan 9, 16, 23 and 30, 2023 from 7-9 pm EST.
Where do we meet?  
We will meet on Zoom.
What makes you qualified to teach this?
That's a really good question.  You could buy the book, read the material on your own and never take this course.  Or, you can join our class and embark on your journey with others who are like you and questioning what their life could look like and how to make it happen.  We have taught this course and found that people get so much more out of walking through it with others and gaining insight and broadening their community.  We are both Associate Certified Coaches through the International Coaching Federation with years of coaching and teaching experience.  In addition to all of that, we are passionate about helping people become the best version of themselves.  It's our mission.
How much is the course?
The course is usually $89 but for a limited time we are offering it for FREE.  
What if I have more questions that you didn't answer here?
Please email us at suesobczakcoaching@gmail.com.
How do I register for the course?
Email suesobczakcoaching@gmail.com.
Testimonials:
The group leaders were extremely engaging. Very skilled in asking provocative questions that encouraged thinking and careful consideration. When we explained our ideas and plans for the upcoming future, they were wonderfully encouraging and provided helpful information and insight on methods to achieve our goals. Luke S.
The course helped me develop a plan in order to strategically realign my life.  I will be forever grateful. Joel J. (Retired Green Beret)
At time when I felt stuck, or confused, both of you were able to steer me back on course and help me get to my personal realizations quickly.  My expectations were more th